White Electric Company
We are Class "A" Electrical Contractor in Virginia and North Carolina.
The company was started in 1983 and incorporated in 1984. White Electric Company is an "open shop" electrical contractor.
White Electric Company has been a Virginia State-approved electrical apprenticeship sponsor for over 25 years in Hampton Roads. The company focuses on commercial electrical wiring, residential electrical service wiring, and service at the highest quality with fair pricing.
We are located in the heart of Virginia Beach next to the local interstate systems. With over 100 years of combined electrical knowledge and experience, the company thrives with a great reputation.
We are proud of our huge customer base and are privileged to assist each one! The majority of employees have been with White Electric Company for over 15 years and some over 25 years! It has always been a blessing and an honor to serve our community!
OUR HISTORY
White Electric Company was started in 1983 with one truck, one master electrician, and the all-American Dream!
As the company grew God blessed this company with many good employees and new clients. Mr. White's background consisted of a wide variety of electrical skills in the trade which prepared him for the upcoming jobs that would be offered to the company.
The company concentrated on commercial, industrial, residential electrical work and repairs for many years. As the years have gone by the company now concentrates on commercial new work, renovations, and service calls.
In the industrial field the company concentrates on new work, renovations, parking lot lighting installs and repairs plus industrial service calls. Residential work consists of small renovation jobs and service calls.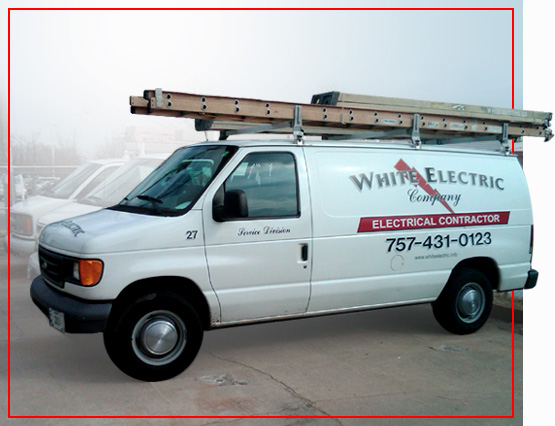 Operating hours are 8 AM to 5 PM
Monday through Friday and offer emergency
service after hours when needed.
Phone: (757-431-0123)
Email: ntignor@whiteelectric.info